PRICING PER 24 BOTTLE CASE WRAPPED ON CARDBOARD TRAY :
(1 time use) Special Occasion Label* (per case)
Description
1 to 5
6 to 15
16 to 36
37 to 72
73 cs +
.5 L (16.9 FL OZ) clear bottle, clear cap 24/case
$24.00
$20.40
$16.80
$14.40
$12.00

*1 time use special occasion includes any artwork that cannot be reused, such as weddings or birthdays. Since there is no charge for label design, time spent cannot be captured on subsequent orders, simply because the event will never reoccurr and the artwork is not recycled.


Case Price for Business to Business* (10 case min)
.5 L (16.9 FL OZ) clear bottle clear cap 24/case
$11.00

*Business to Business includes artwork that has the potential for reuse through subsequent orders.
We feel that if we provide a quality product at a good price, our customers will order again in the future.
Due to increased shipping rates, a 20 case minimum should be considered on orders to be shipped to keep your freight costs at or less than the cost of the product.
For Business to Business orders over a pallet (60 cases) please call for additional discounts.


The above pricing is all inclusive except for 1% sales tax and shipping if applicable.
There is no charge for graphic design time and no hidden fees associated with production setup or runtime.

Free local delivery on 60 case or more orders, otherwise a $25 delivery fee applies. Out of town delivery may be available depending on your location for far less than common carrier cost, and there is no charge for customer pickups within 3 days.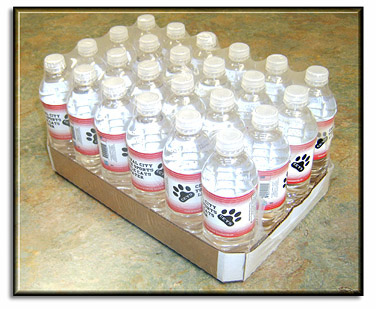 Cases come in easy to carry trays wrapped tight in clear heat shrink film.
Orders are usually shipped within 5 working days of label approval. Labels are full wrap photo quality on Teslin vinyl that will hold up even under extreme storage environments, such as golf cart water & ice coolers or mixed content oversized tubs. Customers wishing to provide their own artwork can view label specs and tolerances HERE, and bottle dimensions HERE,
Bottles are structurally designed to be firm while containing only 15.5 grams of recyclable plastic, dramatically reducing their environmental impact.



---


Although best utilized as promotional givaways, custom labeled bottled water makes a great fundraising item for sports boosters, school bands, disease research fundraisers, disaster relief, and so on. A single pallet, unsponsored, sold at a dollar a bottle yields a net profit of $994.




If the product is sponsored in return for advertising on the label, the net profit per pallet is $1728. As many as 6 different sponsors can have their name, logo, tagline, address, phone number and website address on every bottle sold for as little as 7 cents per bottle per sponsor. We have many different plans to best suit your needs.

Also, for more fundraising ideas, visit

FUNDRAISINGWEB.ORG

---
Prices effective January 16th, 2006.
10 ounce is also available in limited quantities. Please call for pricing.


We offer a variety of payment
methods including these credit cards:

BACK TO TOP